Main Page | Discography | How to Order | Schedule | Links | About Making River Cane Flutes
Biography

Sammy Tedder was born in Tallahassee, Florida in 1950.
At age 11 Sammy began playing the alto saxophone and by age 15 was playing in his first band.



Within two years Sammy joined an eight piece soul band called "The 8 of Us" and was playing around the Southeast US at college fraternity parties and dances. Later, as a student at the Florida State University School of Music, he began working on the art of improvisation using his background in rhythm and blues, gospel, jazz and classical music.

Sammy's musical compositions and performances reflect all these influences.




"The Eight of Us"... from the late 1960's
| | |
| --- | --- |
| | Since the mid '70's Sammy has been working with three Tallahassee area bands: |
These bands have opened concerts for musical luminaries such as B.B. King, Herbie Mann, George Benson, Minnie Ripperton, Stanley Turrentine, Jean-Luc Ponte, Edgar Winter, Jimmy Buffett, Percy Sledge, Tab Benoit and Leon Russell.
Sammy Tedder has also performed with pianist/vocalist Velma Frye in the "Tallahome Compassion" concert hosted by Garrison Keillor of National Public Radio's "A Praire Home Companion".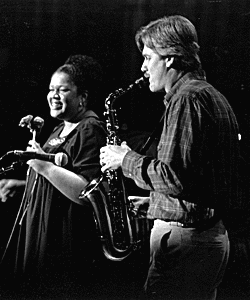 Sammy and Pam Laws
During the summer of 1986, sponsored by the Department of State, Division of Cultural Affairs, Sammy toured the Soviet Union with jazz vocalist Pam Laws, pianist Lindsey Sargeant and trumpet/cornet player Rene Arbogast performing concerts of American Jazz and Pop to promote perestroika and cultural exchanges between our two countries.
In late 1994 he met the Country Music Legend, Tom T. Hall and found himself producing a demo of Tom T. Hall's latest compositions. Later Mercury Records asked Mr. Hall to record and release an album of these songs, Songs from Sopchoppy, and Sammy was invited to play saxophone on most of the tracks and make an appearance on TNN's Prime Time Country with Tom T. Hall to promote the album. This gave a boost to Mr. Tedder's musical career and gave him the impetus to start composing and recording his own music in earnest.
In the mid 1990's Sammy and his wife, Sandy were spending most of their free time at their cabin in a remote section of North Florida along the Sopchoppy River--enjoying the beauty and solitude of the area. This is when Sammy became intrigued by the unique natural sounds he heard there--especially at night.
| | |
| --- | --- |
| There were the phenomenal choruses of the many species of tree frogs, the katydids that called by the thousands every night during the months of June and July, the Chuck-Will's-Widows which visited and called from late March to mid July, River Frogs, Bull Frogs, Toads...in all these sounds Sammy began to hear so many musical patterns and unusual rhythms that he was compelled to record them using a portable digital tape recorder. These recordings inspired him to compose music to accompany these sounds of the Summer night and after two years Sammy completed the album, "A Summer Nocturne". This project was released nationally in 1997 on his own independent label, Wayward Winds. | |
In addition to saxophone and keyboards Sammy plays the flute, the low whistle, the Native American flute, didgeridoo, duduk, Irish bagpipes and the soprano and tenor recorders. He makes flutes from local river cane and enjoys building Native American drums, both of which can be heard on his album, "The Soul of the Matter".

"The Soul of the Matter" was released on August 2, 1999 and features 10 original compositions. This instrumental album blends traditional and contemporary jazz with Native American, Celtic, Latin and Blues nuances and features Sammy on the alto, soprano, tenor and bass saxophones. Sammy is joined by Sandy Tedder on flute and Rene Arbogast on trumpet and flugel horn.

In April of 2003 Sammy released a CD featuring the environmental sounds of North Florida as a background for his original instrumental compositions called "From the Land of Many Rivers". This is a soothing and mysterious collection of works which includes for its final piece "The Feral Sax"--a live recording that took place at a remote frog pond on a moonlit night in March of 1997.

| | | |
| --- | --- | --- |
| In February 2004 Sammy released the CD, "Living Waters" , the musical sound track for the PBS Documentary "Living Waters - Aquatic Preserves of Florida". This documentary features the photography of artist, Clyde Butcher. It was filmed and produced by cinematographer, Elam Stoltzfus of Live Oak Production Group and narrated by Peter Thomas. Using a background of environmental sounds from all over Florida the "Living Waters" sound track album includes light saxophone jazz mixed in with the haunting melodies of river cane flutes. Sandy Tedder and Rene' Arbogast also provided their talents on this CD. | Rene' Arbogast | Sandy Tedder |
In 2006 Sammy produced a soundtrack CD for the film documentary Apalachicola River - An American Treasure.

In 2008 Sammy produced Ancient Horizons, a soundtrack CD for Clyde Butcher's America the Beautiful: The Monumental Landscape.

In 2009 Sammy composed and performed the musical soundtrack and provided the nature sound design for the documentary The Big Cypress Swamp: The Western Everglades. The documentary was produced by Elam Stoltzfus and hosted by Clyde Butcher. It is narrated by Peter Thomas. To hear excerpts from the soundtrack music click here.

In 2014 Sammy released TRANSITIONS.

In 2015 Sammy produced his first full length nature film called LOCAL WATERS - Through the Seasons which documents the seasonal changes that take place in the North Florida Wilderness. The soundtrack includes music from Transitions plus some addition unpublished works and the majority of the footage is from the Sopchoppy River basin and the nearby coastal habitats.

In 2017 Sammy followed up with the second of his Local Waters series with LOCAL WATERS - Wild Places again documenting the wild places from the Wacissa River westward to the pitcher plant bogs of Liberty County with an emphasis on the Sopchoppy River area and adjacent coastal zones.

In that same year Sammy released an album of instrumental music called Grooves, Drives and Ballads. This album featured guest artists Mike Andrews on guitar and Rene' Arbogast on trumpet.

In 2018 Sammy played river cane flute on Rita Coolidge's album Safe in the Arms of Time.


---
If you have comments or suggestions, email me: Contact
Main Page | Discography | How to Order | Reviews | Schedule | Links | About Making River Cane Flutes